Get the Data
Below are the aggregate data used in the Eviction Tracking System. We hope that you find new and productive ways to make use of them. When you do so, please cite as follows:
Peter Hepburn, Renee Louis, and Matthew Desmond. Eviction Tracking System: Version 1.0. Princeton: Princeton University, 2020. www.evictionlab.org.
Scroll below the data table to find code samples for using the data in your own applications. Please submit additional examples!
Boston eviction filing data has a disproportionate number of sealed/missing-tract cases in recent months. Values of filings by tract in Boston may be underestimates as a result.
| Site | Baseline Years | Smallest Geography | Data File |
| --- | --- | --- | --- |
| All Cities | - | Census Tract / ZIP Code | Download CSV |
| All States | - | Census Tract | Download CSV |
| Albuquerque | 2017-2019 | Census Tract | Download CSV |
| Austin | 2014-2019 | ZIP Code | Download CSV |
| Boston | 2012, 2013, 2015, 2016 | Census Tract | Download CSV |
| Bridgeport | 2017-2019 | Census Tract | Download CSV |
| Charleston | 2016-2019 | Census Tract | Download CSV |
| Cincinnati | 2012-2016 | Census Tract | Download CSV |
| Cleveland | 2012, 2013, 2015, 2016 | Census Tract | Download CSV |
| Columbus | 2012, 2013, 2015 | Census Tract | Download CSV |
| Connecticut | 2017-2019 | Census Tract | Download CSV |
| Dallas | 2017-2019 | Census Tract | Download CSV |
| Delaware | 2016-2019 | Census Tract | Download CSV |
| Fort Worth | 2016-2019 | Census Tract | Download CSV |
| Gainesville | 2017-2019 | Census Tract | Download CSV |
| Greenville | 2016-2019 | Census Tract | Download CSV |
| Hartford | 2017-2019 | Census Tract | Download CSV |
| Houston | 2012-2015 | Census Tract | Download CSV |
| Indiana | 2016-2019 | Census Tract | Download CSV |
| Indianapolis | 2016-2019 | Census Tract | Download CSV |
| Jacksonville | 2012-2016 | Census Tract | Download CSV |
| Kansas City | 2012-2015 | Census Tract | Download CSV |
| Las Vegas | 2016-2019 | Census Tract | Download CSV |
| Memphis | 2016-2019 | Census Tract | Download CSV |
| Milwaukee | 2012-2016 | Census Tract | Download CSV |
| Minneapolis-Saint Paul | 2012-2019 | Census Tract | Download CSV |
| Minnesota | 2012-2019 | Census Tract | Download CSV |
| Missouri | 2012-2015 | Census Tract | Download CSV |
| New Mexico | 2017-2019 | Census Tract | Download CSV |
| New Orleans | 2019 | Census Tract | Download CSV |
| New York | 2016-2018 | ZIP Code | Download CSV |
| Philadelphia | 2016-2019 | Census Tract | Download CSV |
| Phoenix | 2015-2019 | Census Tract | Download CSV |
| Pittsburgh | 2012-2019 | ZIP Code | Download CSV |
| Richmond | 2016 | ZIP Code | Download CSV |
| South Bend | 2016-2019 | Census Tract | Download CSV |
| St Louis | 2012, 2013, 2015, 2016 | Census Tract | Download CSV |
| Tampa | 2016-2019 | Census Tract | Download CSV |
| Wilmington | 2016-2019 | Census Tract | Download CSV |
Sample code:
# Sample R code to plot weekly filings




# For Milwaukee until week 24 (06/13/2020)





# library(dplyr)




# library(tidyr)




# library(ggplot2)



mke_tract_week_2020 

%>%

   
  

group_by

(week, week_date) 

%>%

 
  

summarize

(filings_2020 

=

 

sum

(filings_2020),
            filings_avg 

=

 

sum

(filings_avg, na.rm 

=

 T)) 

%>%


  

pivot_longer

(cols 

=

 filings_2020

:

filings_avg,
               names_to 

=

 

"year"

,
               values_to 

=

 

"filings"

,
               names_prefix 

=

 

"filings_"

) 

%>%

 
  

mutate

(year 

=

 

recode

(year,
                       avg 

=

 

"2012-2016"

)) 

%>%

 
  

ggplot

(

aes

(x 

=

 week,
             y 

=

 filings)) 

+


  

geom_line

(

aes

(color 

=

 year)) 

+


  

labs

(title 

=

 

"Milwaukee Weekly Eviction Filings"

)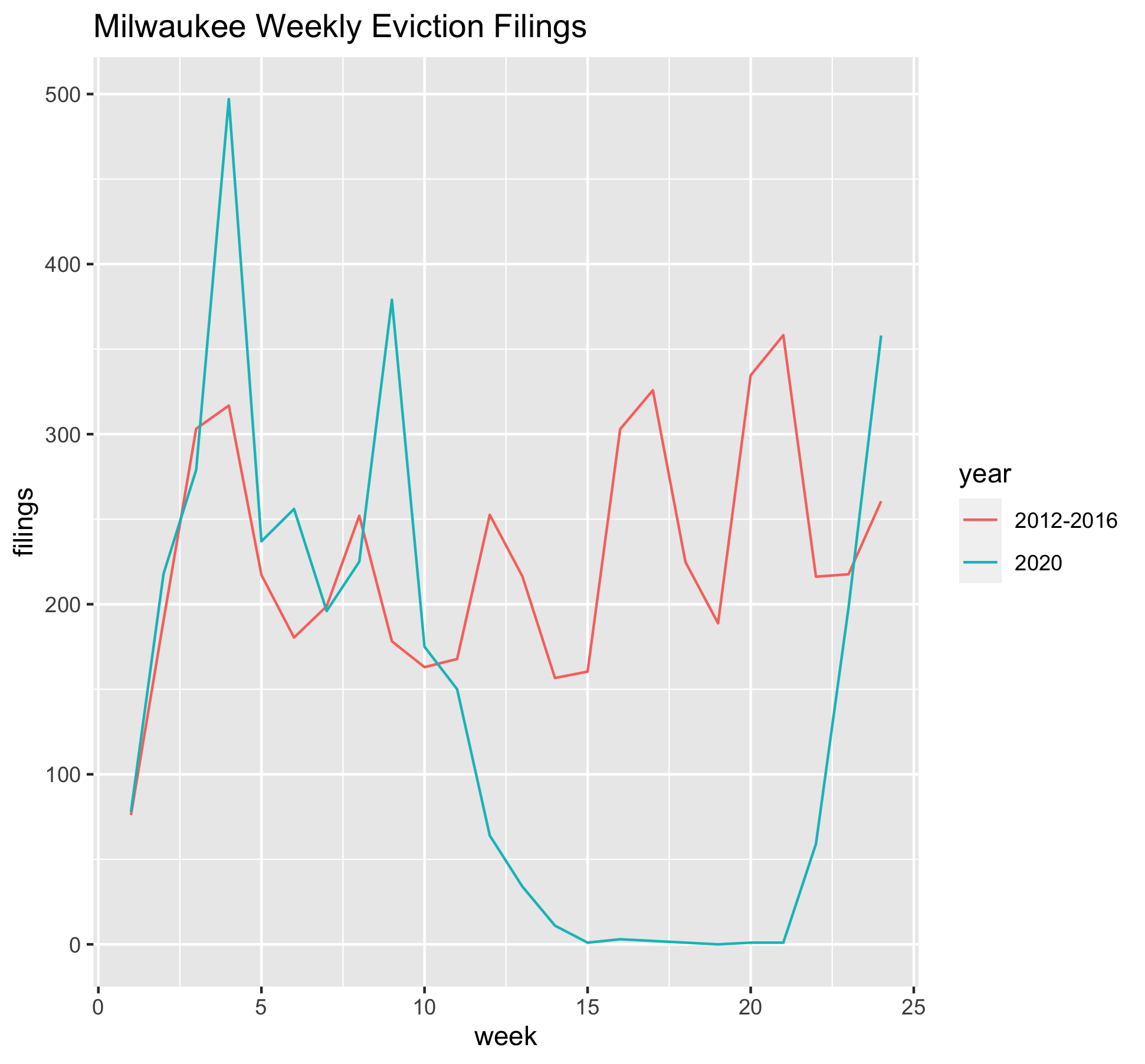 Last Updated: June 16, 2020